"I knew you were the best. That's why I still come."
---
---
My Monthly Newsletter
As the Chair Turns
"combing" the internet so you don't have to
​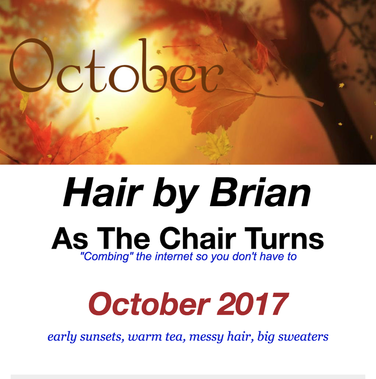 What's Inside This Month
Ways To Get the Most Out of Your Hair Appointment
Tips You Need to Know Before Coloring Your Hair
Why You Should Think Twice Before Using a Hotel Hair Dryer
Things No One Tells You About Parabens and Sulfates
How to Use the Sidewalk Like a Good Person
Things You Didn't Know Are Fading Your Hair Color
How to Tell Your Barber (Stylist) What Haircut You Want
Guys: What Can You Do With Your Widow's Peak?
Men's Biggest Fall 2017 Hair Trends
Cheating On Your Barber (video)
Men's Hair Trending: Platinum Blonde
Tips for Air-Drying Every Hair Type
Movies Opening This Month
Sulfate-Free Shampoo for a Month - Here's What Happened
Sanity-Saving Tips for Styling Thick Hair
Coming Soon on DVD / Streaming
Episodes: My Favorite Podcast This Month
Dates and Events for October
The Color Red - Why It Fast The Fastest
Deep-Dish Chicago Style Skillet Pizza
The Story of Hair - The Marcel Wave
In the News: Hair and Beauty
​​
---
---
---
---