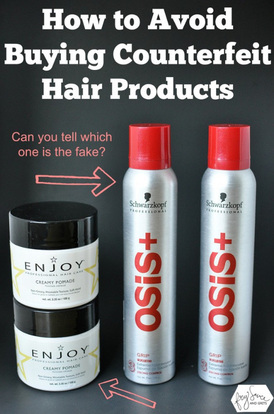 Ok so what are the red flags to counterfeited hair care products?
1. Differences in ingredients, instructions, and logo. If you look at a counterfeit product and compare it to one you got from a salon closely you'll be able to tell subtle differences in the ingredients, instructions, misspelled words, and even the logo.
2. A barcode sticker. Counterfeited products ALWAYS have a sticker slapped over the original barcode printed on the bottle. This is done by the wholesalers to keep track of it. If you notice when you buy a product from a professional salons they always use the barcode on the bottle. Both of my products from Amazon had barcode stickers on them.
3. Dirty, dented, or sticky. Professional hair care companies take a lot of pride in the way their product looks, so if you come across one that is messy looking, don't buy it.
4. Missing batch code. If you see batch codes missing on the bottom, that's another red flag.
5. Higher price or significantly reduced. At first I didn't believe it. I talked to my hairstylist and she told me a red flag when it comes to counterfeit product is the price is slightly higher. My mousse was $12.93 on Amazon and the mousse at my salon was $12. $.93 isn't a huge difference but counterfeit products are generally more expensive because they've gone through so many different "grey market" hands they have to jack up the price of them so those shady people can get a profitable cut. The pomade I bought on Amazon was $13.09 , almost half the price of the one I bought from my salon for $24. What I learned from this lesson is sometimes when you see items selling for 50% off the normal price, it's almost too good to be true. Which this was the case for me.
6. Not sold in a professional salon. Professional hair care companies like Enjoy, Paul Mitchell, Biolage, Big Sexy Hair, and others only sell to professional salons. They don't sell their product to Target and other grocery or drug stores.
7. Doesn't work as well. This was one of the first indicators that something wasn't right with the two products I bought from Amazon.
Conclusion. I still don't know whether the two products I bought from Amazon were either counterfeited or expired. But I know they didn't work the same as when I use the ones I bought from my salon.
Ok, so what do we as consumers do? The crappy thing is there's no laws against product counterfeiting and diversion which is why it's allowed to go on. The only thing that is illegal is if an authorized dealer (a professional salon) sells the product in the purpose for it to be resold or sells to an unauthorized dealer or distributors. So where it comes down to is if you want to protect your health, your money, and your hair, make sure you only buy from a professional salon. Period.
Hope this helps.
Get the full article here