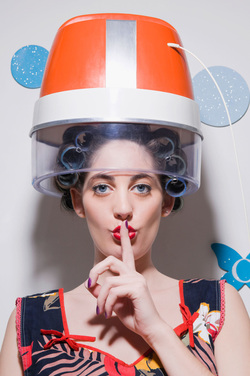 Find out what your stylist is itching to tell you while you're in the chair.
If you're constantly trying to put your best face forward, you'd better be on good terms with your hairdresser. Sure, you're savvy on who and when to tip—but there's a lot more your stylist wishes you knew. Ever wonder what your hairdresser is really thinking when he's elbow deep in your tresses? We asked stylists from around the country to sound off on everything they've been dying to tell you.
1. I PROBABLY CAN'T GIVE YOU A CELEBRITY'S HAIRSTYLE.
2. TELL ME EXACTLY WHAT "A LITTLE BIT" MEANS—EVEN IF YOU FEEL LIKE YOU'RE BEING NIT PICKY.

3. PLEASE RESPECT MY TIME.

4. I LOVE GETTING TO KNOW MY CLIENTS—TO A POINT.

5. A SALON IS NOT A DAYCARE CENTER.

6. PUT DOWN YOUR CELL PHONE. AND YOUR LUNCH.

7. I'M PUSHING MY SALON'S PRODUCTS BECAUSE THEY'RE BETTER FOR YOUR HAIR—NOT TO MAKE A FEW BUCKS.

8. YOU KNOW YOUR HAIR BETTER THAN ANYONE—TELL ME ABOUT IT!

9. IF YOU LIKE MY WORK, PLEASE LET OTHER PEOPLE KNOW!

10. YOU'RE A WALKING BILLBOARD FOR MY WORK.

Get the full article here