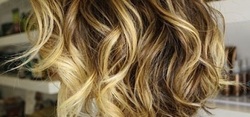 There are a lot of things to love about the beach, and one of them is how your hair looks whenever you're there. The salt water makes your hair wavy and curly, and it's perfect for summer nights.
Actually, it's perfect year-round,
but it's difficult to achieve that look without going in the ocean so… the next best thing is
DIY beach waves!
If your hair is
naturally wavy
, you can get beach waves smply by using a good beach waves spray and letting your hair air-dry. But if you don't have naturally wavy hair, getting that effortless summer look is a little more difficult. Luckily, there's Pinterest, where you can find lots of different hair hacks, tips and tricks on how to get beach waves anytime of the year.
Want to get the look? Check out these 12 tips.
1. First, get an amazing beach waves product
2. Or make your own DIY beach waves spray!
3. Scrunch product into your hair, then dry with a diffuser.
4. Use a curling iron
5. Try headband curls
6. If you have natural hair, wear it in a braid.
7. Use twisted buns to get easy, no-heat waves.
8. Add socks to keep frizz away.
9. Use a curling iron AND twists.
10. Wear French braids overnight.
11. Use rollers for a softer look.
12. Twist and go!
Click here for the details on all of these tips.